This 1988 Bentley Continental was owned originally by the CEO of Electrolux who used it at his Florida vacation home. The car was shipped with three options: The steering wheel was covered in leather to match the rest of the interior, picnic tables were fitted to the rear of the seats, and four crystal glasses were included in each cocktail cubby instead of the usual two. For some reason, the original owner did not like the Royal Blue paint as shipped, so he repainted the car a Firemist Blue Metallic.
The second owner, a Chicago area businessman, purchased the car in 1995. He also kept the car at his Florida vacation home. The car was in great low mileage condition, but the paint was not "correct", so he repainted the car (at considerable expense) to a proper 1988 Bentley color, Cobalt Blue. The second owner spared no expense in maintenance, but eventually wanted a 4-door car, so he traded it in to Vantage Motor Works.
I am the third owner, a Houston marketing professional. I purchased the car from Vantage in late 2003. The car had traveled only 20,000 miles in 15 years.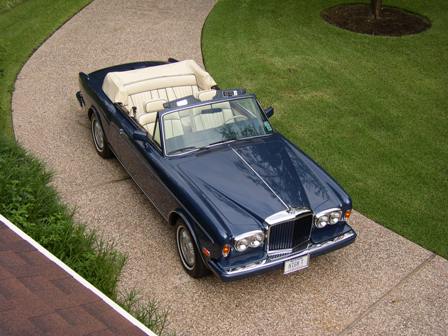 <previous next>
random view play stop
Click any picture for a very high-resolution version.
Click HERE for wallpaper-quality photos of Bentleys, including this 1988 Bentley Continental.