The Bentley Continental series has a long history, from the original experimental chassis in 1951 to today's breathtaking turbocharged models.
Both W.O. Bentley and Rolls-Royce had a special interest in long distance Continental motoring, the latter having produced 'Continental' models since 1912. It was therefore only natural that the Bentley Continental model should be produced.
Rolls-Royce asked H J Mulliner to collaborate on producing the coachwork for what was to become the 'R' Type Continental. The prototype (right) was registered OLG490 and nicknamed 'Olga'. The lightweight streamlined aluminum body gave Olga an official 5 lap average at the Montlhéry circuit of 119.75 mph. The Bentley 'R' Type Continental was the fastest and most refined production 4 seater of its time and set the standard for all Bentley Continentals that were to follow.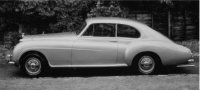 The prototype Bentley Continental, known as "Olga".
[click photo to enlarge]
In general, the Bentley Continental models (including the Corniche and Azure, which are Continentals in all but the name) are distinguished from their "ordinary" Bentley brethren by higher-than-standard performance and a special coach-built body. Continentals reached higher performance levels through lightweight body construction, powerful engines, higher gear ratios, or some combination of the three.
All Continentals are sports saloons or drophead coupes, with the exception of the four-door "Flying Spur".
(The British have several automobile terms that need translation: a "sports saloon" is a high-performance two- or four-door enclosed automobile with a front and back seat; a "drophead coupé" is a two-door convertible; the "hood" is the convertible top; the "bonnet" is the hood; the "boot" is the trunk. Who says there isn't a language barrier between the Americans and the British?)
Only 388 S2 Continentals of any style were ever built so there appears to be a greater likelihood that these cars will hold value over time.
Because there were so few of these beautiful drophead coupes made, the history of each car tends to be fairly well-documented - thanks to complete records from Rolls Royce and a cadre of Bentley enthusiasts around the world. Copies of the original build records for BC28LCZ have been obtained and are included with this vehicle.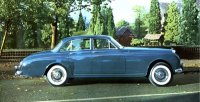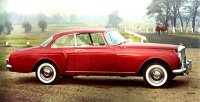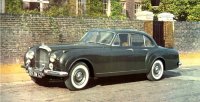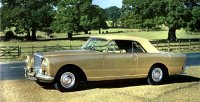 The original Bentley S2 Continental models: Sedan by James Young, Coupe by HJ Mulliner, Flying Spur by HJ Mulliner, and Drophead Coupe by Park Ward.
[click photos to enlarge]
BC28LCZ, was originally shipped to Ruth Greenewald in Palm Springs, California. While all Bentley Continentals were built to order and could be delivered in any color imaginable, Ms. Greenewald chose a standard Porcelain White with scarlet interior.
Somewhere along the line the color was changed to "silver mink," which is a later Bentley color that is essentially a silver blue with a hint of green.
By 1980, BC28LCZ ended up in a collector car dealership in New York, where it was purchased by a Florida businessman, Edward Mestre. This owner rebuilt the engine, refinished the woods, restored some of the leather, and installed a modern stereo.
When he died in 1990, his mechanic, Victor Wilbur, purchased the car from the estate and used it rarely, logging only 1200 miles in 10 years.
The present custodian, John Sweney, CEO of a marketing firm, bought the car from the mechanic in the summer of 2000 and brought it to Houston, logging thousand of miles in local pleasure travel, shows, parades, and even daily commutes to the office.
Like all British cars, the Bentley Continental is built to be driven, not stored away. When left alone in the garage, it has been known to call out to go for a drive in the countryside!
When acquired by its present custodian in 2000, the car ran quite well considering its age. It had been lovingly cared for and well-maintained, but never fully restored.
Between 2000 and 2003, most of the major mechanical assemblies were restored by Houston-area Bentley specialists, including Sport & Classic Car Company and Post Oak Motors.
These restorations are detailed below, but they included:
steering and suspension
transmission and differential
tires and brakes
exhaust
starter and wiring
carburetion and ignition
cooling
air conditioning
top
All in all, the car has traveled 121,000 miles since new.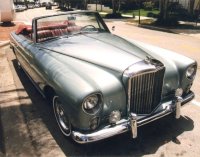 BC28LCZ in 1999.
[click photo to enlarge]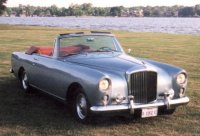 BC28LCZ in 2001.
[click photo to enlarge]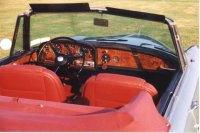 Interior.
[Click photo to enlarge]