---
Bentley-dot-Continental
How I used the Internet to find and acquire a classic Bentley
By John Sweney
---
The Desire
It's not my fault. Really. I didn't invent the Internet; Mr. You-Know-Who did. As the world drives at a rapid clip into a silicon-fueled Internet future, I can only claim a minor role as a former high tech public relations person for a big computer company.
Of course, it doesn't matter who is responsible. There is no one to blame. We face escalating demands. Our lives rocket past us at dizzying speeds as we strive to keep up with "Internet speed." The pace of technology makes products obsolete (or at least outdated) in months or weeks. We live in a throwaway culture.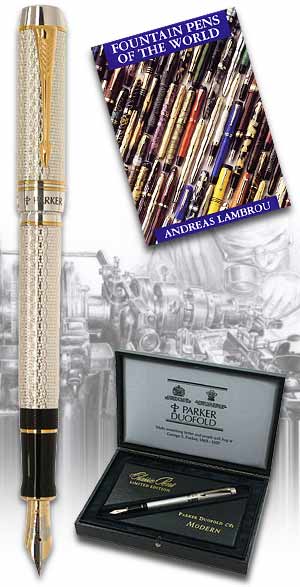 =========================
Vintage fountain pens… functional,
but simple. Photo from
Ashford.com.
=========================
In a world of cheap quartz watches, disposable pens, and sterile automobiles, there is something quite comforting - even fascinating - about mechanical wonders that are as functional today as when they were first made decades ago. There is, of course, satisfaction derived from owning "personal accessories" like vintage watches, fountain pens and classic cars. The real joy is in the use of them. They are the perfect antidotes to today's technology frenzy. They serve as daily reminders that when mankind combines ingenuity, beauty and purpose, the results endure for ages.

So I do "the fountain pen thing." A couple of Parkers and a Mont Blanc in my collection contrast nicely with an interesting new retractable fountain pen from Namiki.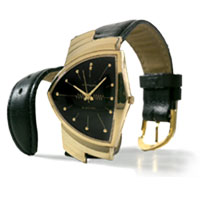 =========================
Vintage watches... Functional
and intricate, but not very
social. Photo by Ashford.com
=========================
And I do "the vintage watch thing." My old Omegas, Doxas and Hamiltons are functional and different, and I try to rotate through them on a daily basis.

Keep in mind that old watches and fountain pens provide a personal satisfaction. They do not lend themselves easily to shared experience and social interaction.
But a Bentley… classic, sturdy, timeless, graceful, built for four people and styled for public consumption. That's the ticket!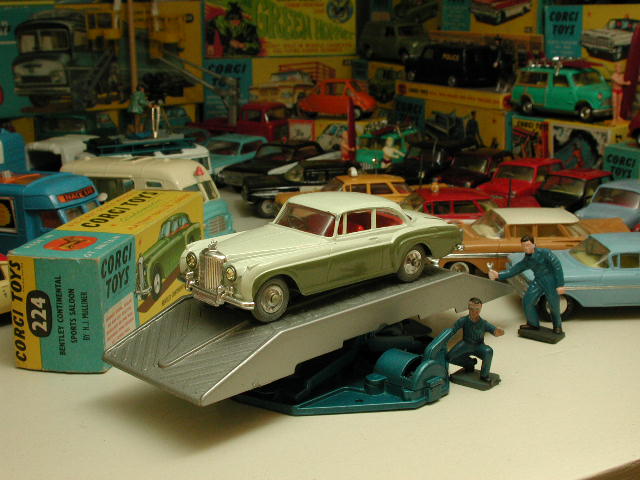 =========================
Could this Corgi toy be the root
of my desire? If you want one of
these, go to www.ebay.com and
search for "Bentley 224." They
can be found for $40 to $80.
Photo & collection by Sam Mak.
=========================
To be honest, there must be some deeper root to the desire for a Bentley. When I was a youngster, someone gave me a Corgi toy car… a Bentley Continental. I played with it all the time. As a teenager, I kept it on the shelf with my other model cars. As an adult, it has remained on my desk for years. I suppose we are attracted to that which is familiar. Dents and scratches included.
---
The Continentals
The Bentley Continental series has a long history, from the original experimental chassis in 1951 (known affectionately as "Olga") to today's breathtaking turbocharged models.
In general, the Bentley Continental models (including the Corniche and Azure, which are Continentals in all but the name) are distinguished from their "ordinary" Bentley brethren by higher-than-standard performance and a special coach-built body. Continentals reached higher performance levels through lightweight body construction, powerful engines, higher gear ratios, or some combination of the three. All Continentals are sports saloons or drophead coupes, with the exception of the four-door "Flying Spur".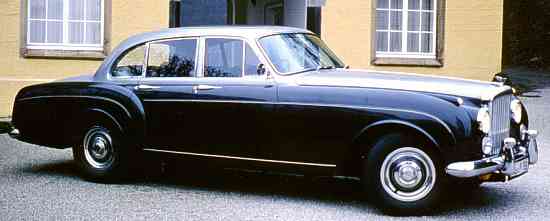 From www.rrab.com: "Bentley S2 Continental 1961, #BC37BY, 'Flying Spur' by H.J. Mulliner. H.J. Mulliner had chosen the designation 'Flying Spur' for their 4-door-saloons on Bentley Continental chassis."


(The British have several automobile terms that need translation: a "sports saloon" is a high-performance two- or four-door enclosed automobile with a front and back seat; a "drophead coupé" is a two-door convertible; the "hood" is the convertible top; the "bonnet" is the hood; the "boot" is the trunk. Who says there isn't a language barrier between the Americans and the British?)
Of all the Bentley Continentals, how could I choose which model? I wanted a car that would be practical on today's roads and suitable for frequent pleasure driving. At almost six and half feet tall, I needed a car that I could fit in easily, too.
As usual these days, my research began on the Internet. I started at the website for the Rolls Royce Owners Club (www.rroc.org) to learn about the various Bentleys and find other sources for information.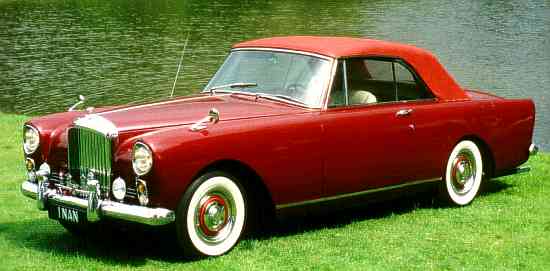 From www.rrab.com: "Bentley S2 Continental, 1962, #BC92LCZ, Park Ward Drophead Coupe… The Norwegian designer Vilhelm Koren has been responsible for this advanced styling."

The RROC website pointed me to the comprehensive photo and information archives of Klaus-Joseph Rossfeldt (www.rrab.com). For a quick overview of all the Rolls Royce and Bentley models ever made, there is no on-line source better than this. I especially like the "Highlights" and "Car of the Month" features. The background and technical information from this site skewed my search towards the S2 Continental series. I wanted a powerful V8 engine, not found in the S1, and the more elegant two-headlamp styling, not found in the S3. Moreover, it was clear from the production figures that with only 388 S2 Continentals of any style ever built there would be a greater likelihood that my car would hold its value over time. I ordered up great history of the car, "Bentley Continental, Corniche and Azure" by Martin Bennett, found at www.rrab.com/books.htm#top.
With a comprehensive history in hand, and satisfied that my car would hold its place among the fine cars of the world, my decision was nailed. I finally decided to search for one of several Bentley S2 Continentals (1960 to 1962).
I used the Internet auction site E-Bay (www.ebay.com) to find and obtain an original Bentley S2 Continental sales brochure that had pictures of all the models, plus specifications. It cost about $100 to buy and ship the brochure from the United Kingdom, but it was money well spent. The original color photos reinforced that I was on the right track. The dimensional drawings indicated that the HJ Mulliner Flying Spur would have enough headroom for me, but that the Park Ward drophead coupe might be an inch too short. Of course, as a public relations professional, I can rationalize anything: "Well, the drophead coupe only has 36 1/2 inches of headroom, but if I gain more weight, then I can compress the seat cushion more and make up the difference!"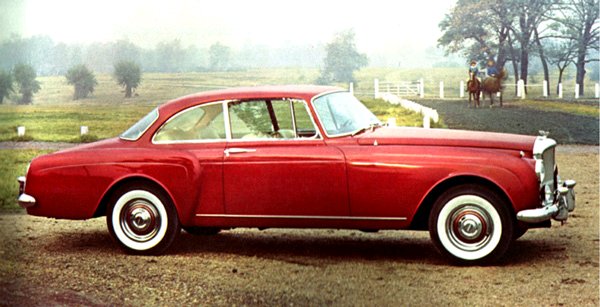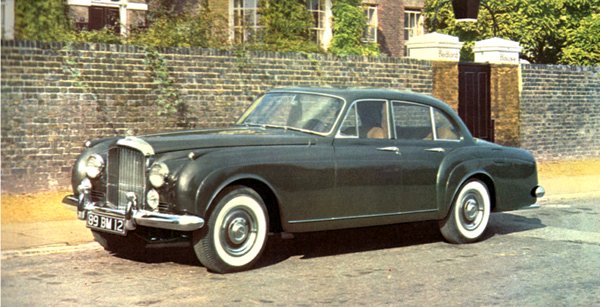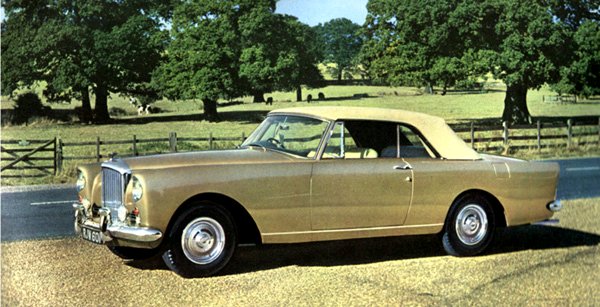 The available Bentley S2 Continental models as illustrated in the original sales brochure (from top to bottom): Sedan by James Young, Coupe by HJ Mulliner, Flying Spur by HJ Mulliner, and Drophead Coupe by Park Ward.
---
Flying Spur Detour
My initial search focused on the elegant four-door Flying Spur models by H.J Mulliner. When these automobiles were under development, there was considerable discussion between Rolls Royce and HJ Mulliner over whether a four-door sedan could carry the "Continental" label (all other cars were two-door models). Can you imagine the genteel discussions over afternoon tea? HJ Mulliner finally won over.
I searched the Net-A-Car online database, now part of CarScene (www.carscene.com), and found a 1960 Flying Spur for sale by a private party in Massachusetts. The car had a decent history, and appeared in good shape from the pictures the owner sent to me, but I of course needed an inspection to understand the true condition and value of the car.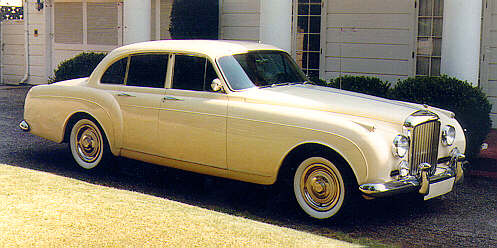 In a brief detour in pursuit of a Flying Spur, I made an offer on BC140LAR, but finally decided that a Park Ward drophead coupe would be more fun to own and drive. Photo by Jesse Stanbrough.


I looked for a Bentley expert listed in the Flying Lady, the magazine of the Rolls Royce Owners Club, and found John Robison's ad. A phone call and check of his website at www.robisonservice.com confirmed that he had the expertise to conduct a reasonable inspection. Following a series of helpful and educational phone calls with me, John drove the 2 ½ hours to the seller, looked over the car and wrote a thorough inspection and appraisal report, complete with photos.
This report was not encouraging, however, as it indicated that the car had deteriorated gradually over time and needed about $80,000 in restoration. With an asking price of $59,000, there would be way too much investment to make this particular car worthwhile to me; perhaps the honor should fall to someone else. The owner eventually reduced the price to $35,000, but by then my infatuation with the Flying Spur had pretty much run its course.
---
Drophead Dreams
I became so discouraged about finding a Bentley Continental that really suited me, I even started searching for - gasp! - a vintage Mercedes! Richard Gorman of Vantage Motor Works talked me down off that ledge, assuring me that if I kept up my search, I would eventually find the right car. He noted that if I really wanted to have a car to drive (not just look pretty in the garage) that nothing could beat a mechanically sound Bentley Continental.
He sent some photos of a Park Ward drophead coupe he had for sale. At about the same time, John Robison forwarded some pictures of another S2 drophead available from a client of his. While neither was really the color I would choose (and yes, color is important - even to men!), they were truly beautiful cars.
But could I really afford one?
I looked to my favorite search service, www.metacrawler.com, to find the answer. MetaCrawler differs from other search services in that it takes your search query and sends it to several other web search engines at once. It then collates the results and delivers a summary sorted by relevance -- all in a matter of seconds.
Searching for the phrase "classic car prices," MetaCrawler led me to a joint on-line service of Hemmings Motor News and Cars of Particular Interest (CPI) Price Guides at www.hemmings.com. A lookup confirmed that with average prices for "good" condition cars ranging from $55,000 to $135,000, I could not afford any of the S2 Continental models - especially the rare drophead coupe.
But that never stopped me before!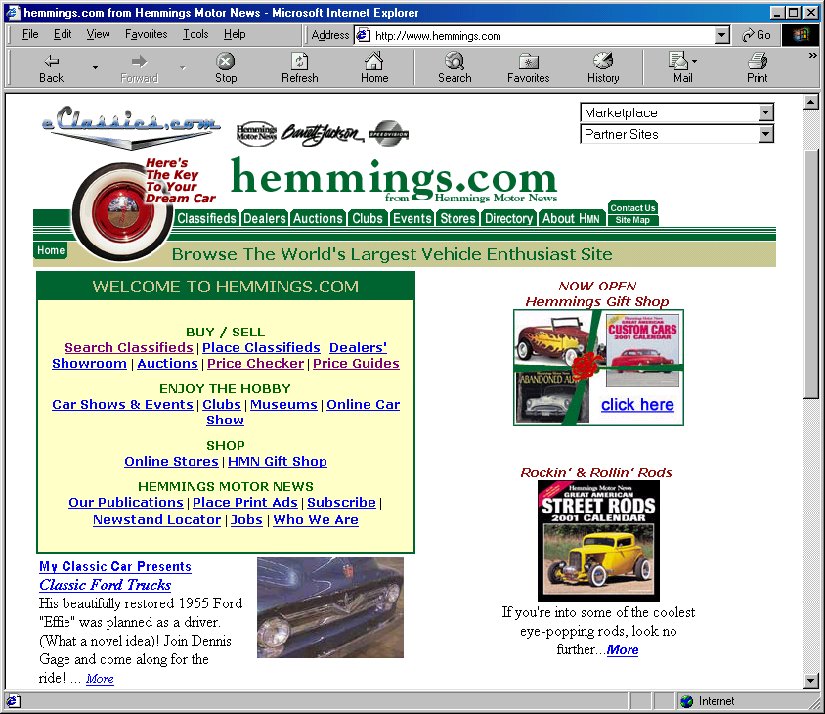 I used some well-known Internet classic car sites to search for an available Bentley S2 Continental by Park Ward. The sites included:

- www.hemmings.com
- www.traderonline.com
- www.worldwidewheels.com
- www.dupontregistry.com
Not many of these hand-built cars were ever made. In fact, only 124 cars of this type were built between 1959 and 1962. Of those, only 64 were left-hand drive, and only 20 were originally shipped into the USA. At any given time, it seems, there are only three or four for sale.
Not counting the two cars I already knew of, I found two drophead coupes for sale -- both in Hemmings on-line listings. It appears that the Hemmings on-line listings appear several days - perhaps even weeks - ahead of the print version. If there is any buyers' advantage to being first in line, then the Internet is the only way to get ahead of "print" buyers. The duPont Registry appears to have the same on-line advance listings.
One car, offered by a wealthy candle maker, was in museum condition and well documented. I made an offer well below the $125,000 asking price, but we did not reach an agreement. (Rationalization: I don't really want a "museum" car anyway; I want a well-maintained "driver.")
Another car was being sold by a collector dealer and seemed to be overpriced at $86,000, in part because of needed mechanical work.
A third car was offered by a private party in Florida who had owned the car for 10 years. This car, BC28LCZ, showed real promise. The color combination, "silver mink" with red leather, was right for me, and the car had been well maintained but never fully restored.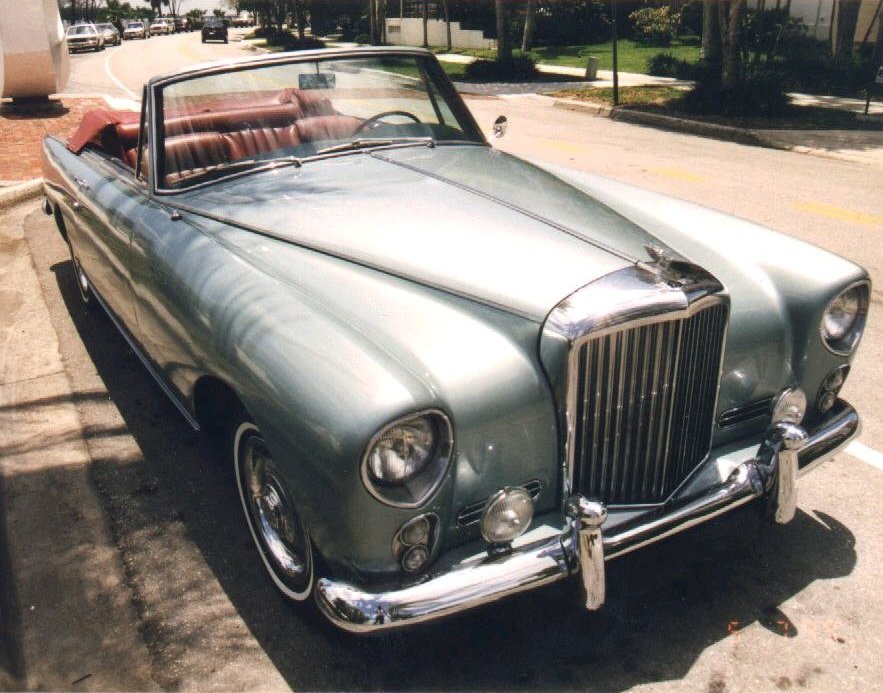 BC28LCZ, as advertised. This well-maintained driver had never been squirreled away in a museum, but it was still screaming to be the eye-catching daily driver of its earlier years! Photo by Victor Wilbur.


I used the Internet to find another Bentley expert, this time in Florida. My search landed me at Kevin Eastwood in Palm Beach who could inspect and appraise this particular car. You can find Kevin in Palm Beach at www.executivemotorworks.com. A few days later, I had a written report (which was positive overall) that detailed every flaw in the car and estimated its fair market value at around $45,000, considerably less than the $67,500 asking price.
I know that appraisals are intended to document the realistic costs of correcting defects in a car, but I was still willing to pay about 20 percent above an appraised value.
In this case, the car was in good mechanical condition, with good leather, wood and chrome, but needed new paint to correct a poorly prepared re-spray from several years ago.
Based on the all-important independent inspection and the appraisal report as a discussion tool, I reached agreement for a price of about $58,000, with the owner (who happened to be a Bentley mechanic) to complete certain mechanical repairs that were called for in the inspection - including restored brakes, exhaust and steering.
Once the repairs were completed in Florida, I searched the Internet for enclosed cost-effective automobile transport and found several, including InterCity Lines (www.intercitylines.com). As long as I was not in a rush, InterCity offered to schedule my car from Florida to Texas on the next available truck traveling west.
Within four weeks, the car was delivered to our local Bentley dealer, Post Oak Motor Cars, which has performed additional minor mechanical repairs.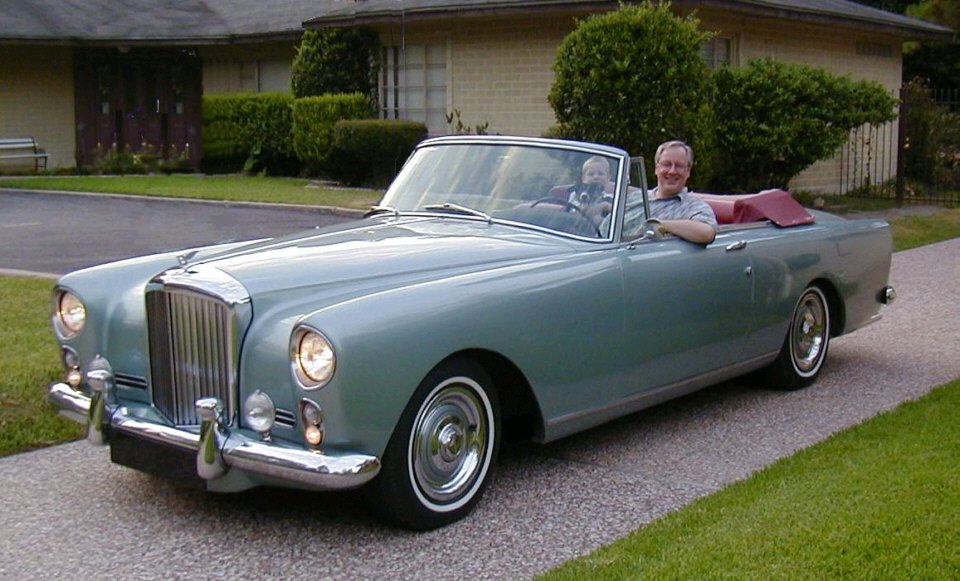 The proud author enjoys an evening ride with friends Rob and Maggie. Note the "straight-through" design by Vilhelm Koren, with a single clean edge running from the tail light to the headlight. Photo by Paul Mabry.
---
This Lady's History
Because there were so few of these beautiful drophead coupes made, the history of each car tends to be fairly well-documented - thanks to complete records from Rolls Royce and a cadre of Bentley enthusiasts around the world.
BC28LCZ was originally shipped to Ruth Greenewald in Palm Springs, California. While all Bentley Continentals were built to order and could be delivered in any color imaginable, Ms. Greenewald chose a standard Porcelain White with scarlet interior.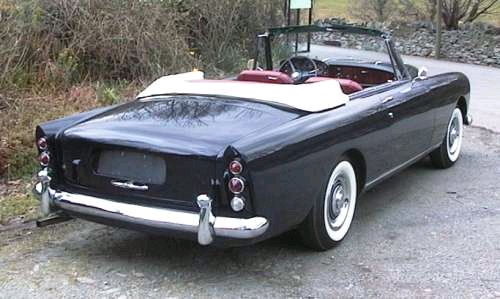 BC9LAR, a sister car to BC28LCZ and one of several classic Bentley automobiles recently "repatriated" to the British homeland. Note the wonderful jet-age tail lamps and fins. This design was a radical departure for the conservative Bentley Motors, which used aircraft construction techniques to form the aluminum body panels. Photo by The Belmont Group.


Somewhere along the line - possibly following a fender-bender in the 1970s -- the color was changed to "silver mink," which was actually a color specified for Ford Thunderbirds in the mid-sixties.
By 1980, BC28LCZ ended up in a collector car dealership in New York, where it was purchased by a Florida businessman, Edward Mestre. This owner rebuilt the engine at least once, refinished the woods, restored some of the leather, and installed a modern stereo.
When he died in 1990, his mechanic, Victor Wilbur, purchased the car from the estate and used it rarely, logging only 1200 miles in 10 years.
I bought the car from the mechanic in the summer of 2000 and brought it to Houston, logging hundreds of miles in local pleasure travel, shows, parades, and even daily commutes to the office. These cars were not meant to be idle, and Houston motorists will surely be seeing lots more of this rare drophead on local streets and freeways.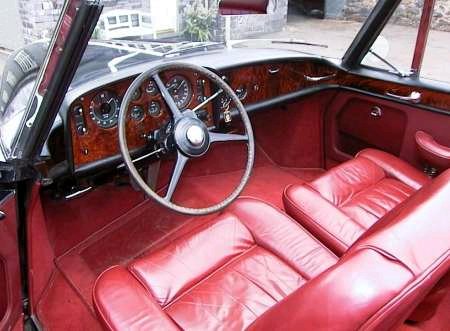 The Continental by Park Ward featured a unique instrument cluster in a hooded nacelle. The fine burled walnut veneers are matched, so that a grain pattern near the right door handle is the mirror image of the grain pattern near the left door handle. Photo by The Belmont Group.


The car is slated for restoration in the summer of 2001 (when it's too hot to drive a drophead in Houston anyway!) The restoration will include new top and paint, plus some new metal on the underside, a redye of the worn leather, new carpet, an engine compartment detail, and renewed chrome. I also plan to make some custom modifications to accommodate my height, including a modification to the seat tracks (for more legroom) and elevation of portions of the headliner (for more headroom).
Assistance from the Internet for parts and supplies will no doubt be vital to a successful restoration.
Check out my improvised Bentley Continental website at www.brookwoods.com/continental for a history and roster of all the Bentley S2 Continental Dropheads.
---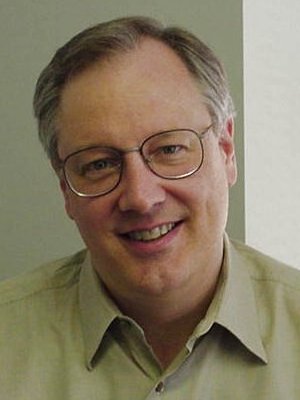 John Sweney is CEO of Brookwoods Group, a marketing communications consultancy based in Houston, Texas. John also collects watches, pens and gadgets. He and his partner Mike Stargel dote on the two dachshunds that dominate their household.